Life Style
Amouranth Husband Nick Lee Forced Her To Keep Doing Onlyfans. –
Amouranth Husband Nick Lee Forced Her To Keep Doing Onlyfans.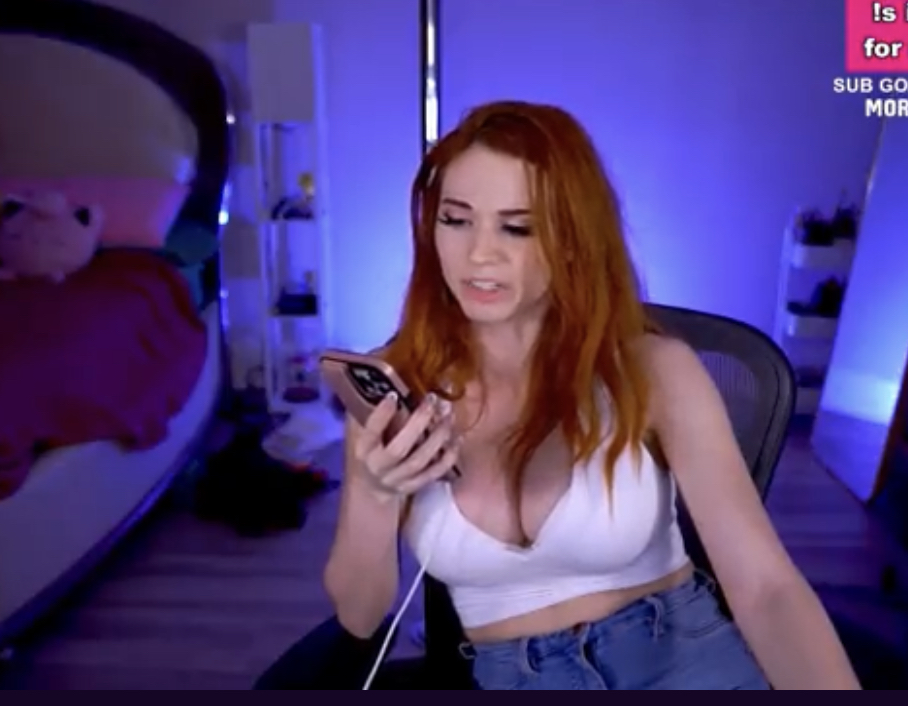 Amouranth Live Streaming About Husband Abuse
Famous Onlyfans star youtube and twitch streamer Amouranth has become hot topic of the day.
She claims while live streaming that her husband Nick Lee forced her to do Onlyfans.
Known for her intelligent investing and controversial streams, Kaitlyn "Amouranth" Siragusa left the streaming community stunned when she claimed that her controlling, abusive husband was behind her risque content.
At first everyone was shocked to know that Amouranth is married and she has a husband.
People started searching about Amouranth and her husband Nick Lee.
She recently live-streamed a conversation between her and her husband that included him threatening to kill her pets and drain her bank accounts over her not hearing a question he asked.
After the phone call ended, Amouranth revealed that her husband had forced her to do the hot tub streams and had control over all of her bank accounts and social media.
With the streaming community left horrified for Amouranth, it's no surprise that many want to know the identity of the man who she claims has threatened to kill her dogs and ruin her career.
An anonymous content creator may have possibly leaked his identity.
Who Is Amoutanth?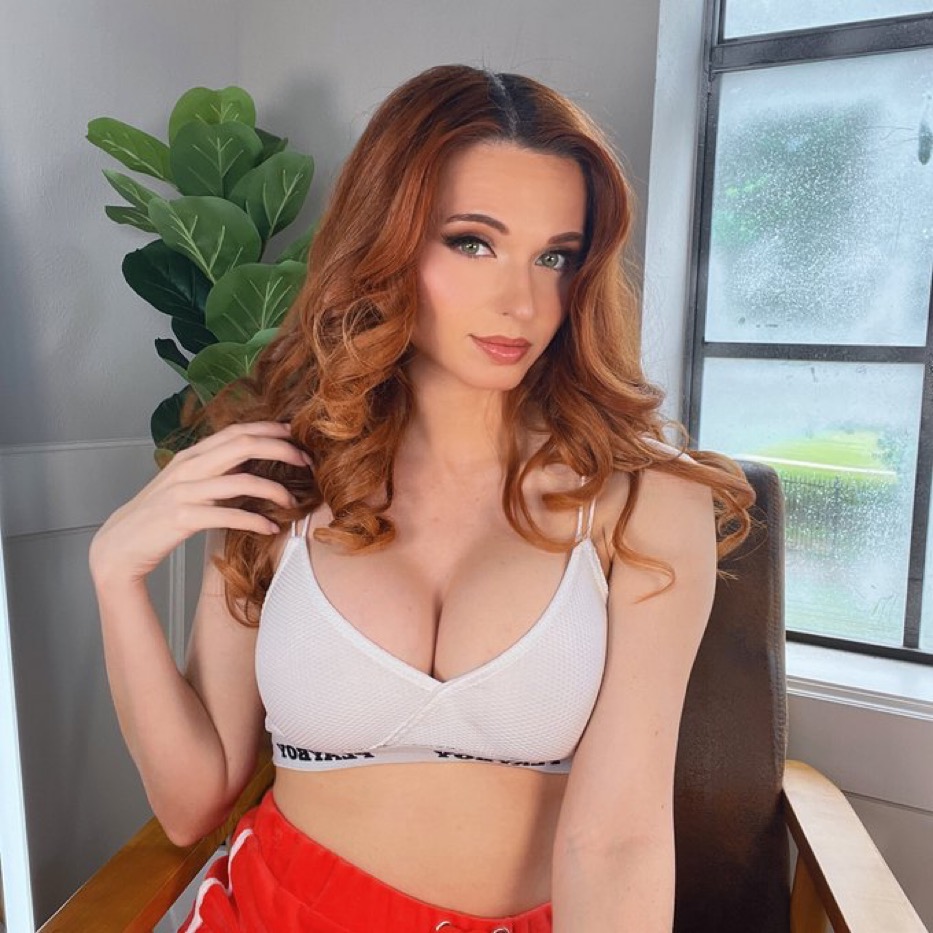 Amouranth
Amouranth's age just is 28 years old. She was born to, Kaitlyn Michelle Siragusa in Houston, Texas, on 2nd of December in year 1993. She is having a height of 5 feet 4 inches and her weight is 54 kg as of 2022.
Watch: Mike Itkis Drops His Own Sex Video
Who Is Nick Lee?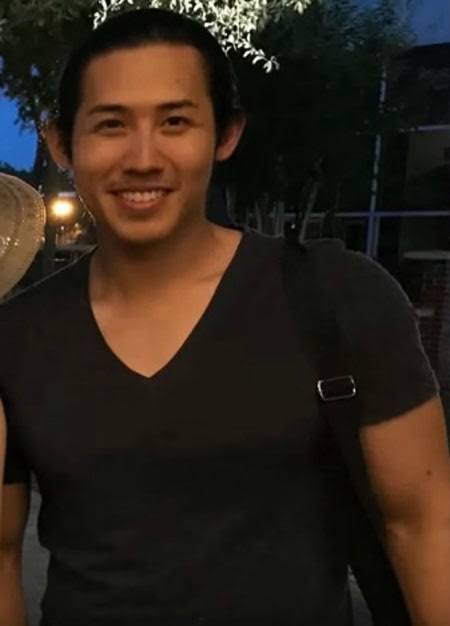 Nick Lee
Although it was never fully confirmed, it was leaked that Amouranth had a husband back in 2018.
A Youtuber named Myles King claimed that Amouranth had been married since 2015 to a man named Nick Lee, alleging that he had a copy of the marriage certificate and other private information.
At the time, Amouranth said that the possibility of her private information being shared publicly would be dangerous to her.
According to Myles King, Nick Lee is a former bodybuilder. He shared screenshots years ago that showed his DMs with Amouranth when they first met.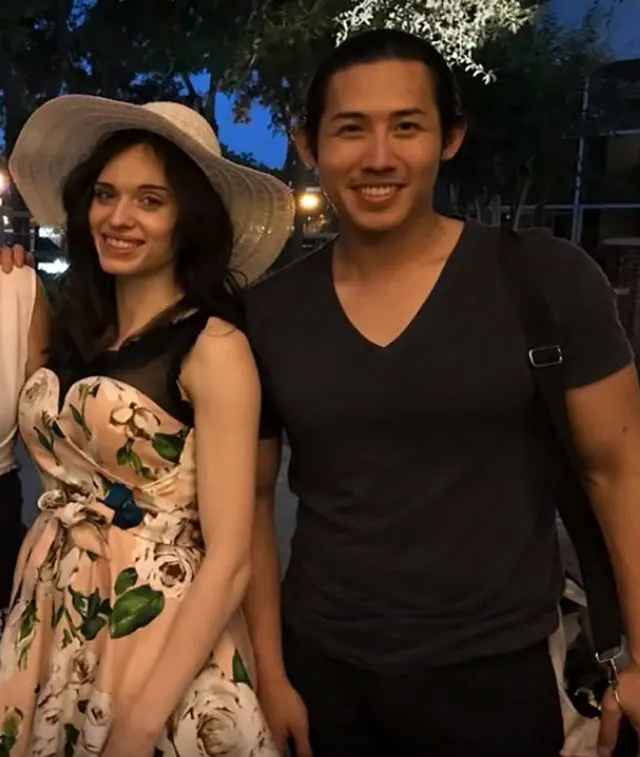 Amouranth And Nick Lee
At the time, Amouranth said that the screenshots were fake. But around the same time, a Twitter account said to be owned by Nick Lee shared a copy of the marriage certificate and other private information. It's unclear if this Twitter account is truly Lee's or not at this time.
Still, the streaming community was fuming in 2020, angry that Amouranth was hiding her allegedly supportive husband in order to get more attention from male viewers. This was before Amouranth's emotional reveal over the weekend.
Watch: Lola Bunny Challenge
Amouranth Husband Nick Lee Forced Her To Keep Doing Onlyfans.
Amouranth displayed indications of exhaustion after working for hours on her numerous businesses.
She streams every day on Twitch and uploads content to OnlyFans on a regular basis.
She also owns and operates various legitimate businesses, including a gas station and her own merchandising store.
Amouranth earns over $1.5 million per month from her OnlyFans account alone and approximately $2.0 million per month from all of her ventures.
She said yesterday that she plans to cease producing OnlyFans content and sexually suggestive Twitch streams in order to focus more on family-oriented content with her spouse and on her other enterprises.
However, according to Amouranth, her husband calls the shots and even has sole access to all her bank accounts.
She accused him of threatening to kill her dogs, control her finances, forcing her to stream, and empty her bank account should she disobey him.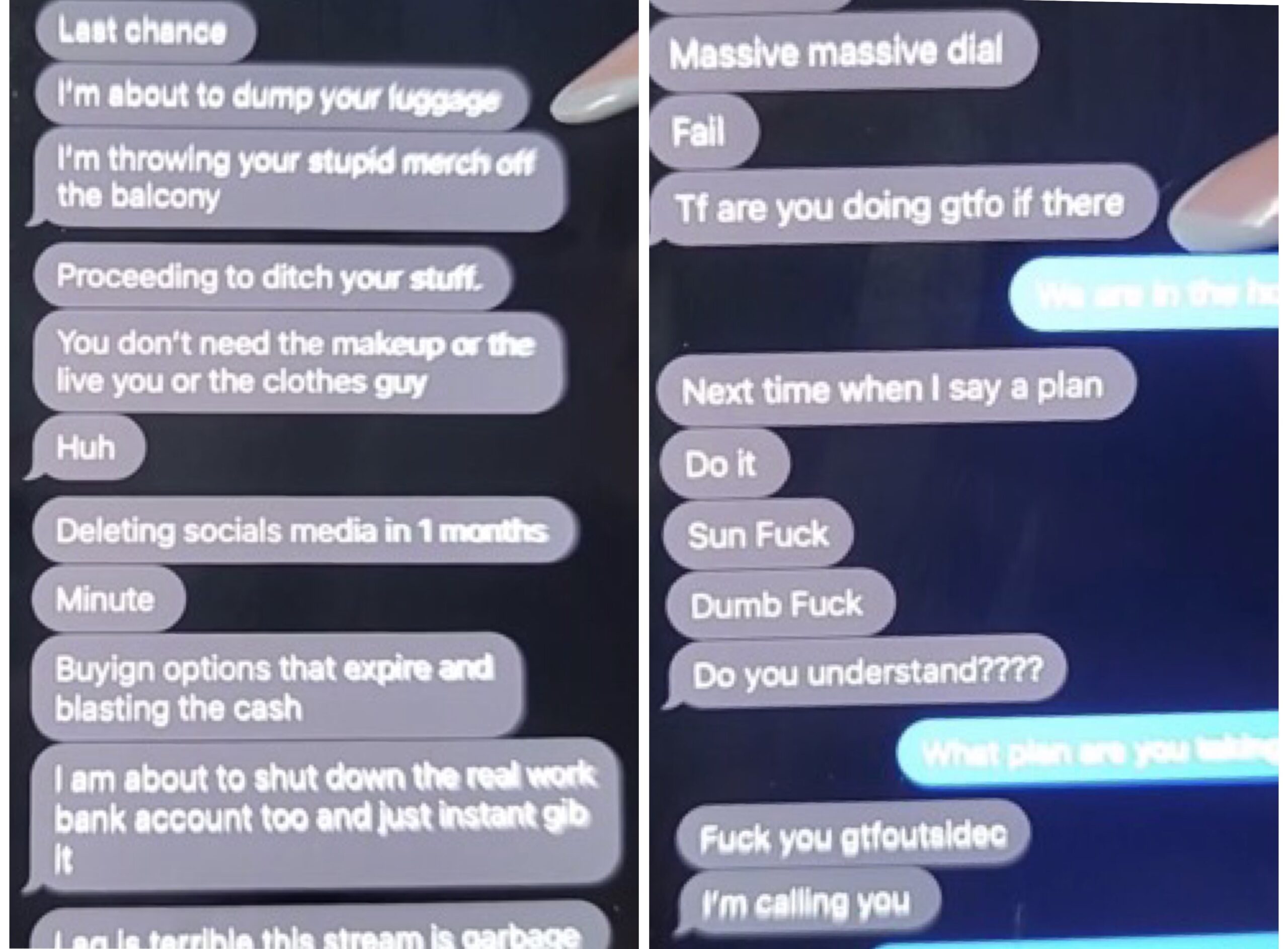 Text conversation between Amouranth And Nick Lee
In one clip, the streamer confronts her husband about killing their dogs, to which he violently answers, "Leave the home!" before labeling her a liar and becoming obnoxious.
Later, Amouranth disclosed that her abusive husband made her look to be unmarried and single in order to protect her brand.
A highlight from the broadcast also showed a verbal argument between Amouranth and her husband.
Her displaying the door and wall damage he caused, and a peek at the violent emails he has sent her.
The stream abruptly ended when one of her girlfriends called to ask if she had taken her medication.
This left many concerned about her mental health.
Others were astounded by her husband's treatment of her, knowing she had issues with mental health.
Amouranth's friend, fellow Twitch broadcaster, and OnlyFans model.
Alinity, was so concerned for her safety and well-being that she contacted the authorities to conduct a wellness check.
Kaitlyn "Amouranth" Siragusa has not posted to any of her social media accounts since the live stream altercation.
She ultimately announce her divorce and her plans to retire from Twitch and OnlyFans.
Amouranth has gone live to explain her situation. It seems her and her partner have split (or trying to), and he is seeking help. She is seeking both legal and emotional counsel
She has also regained control of all of her social media accounts again. pic.twitter.com/8PG83V6q8H
— Jake Lucky (@JakeSucky) October 18, 2022